J.T. Clark Family Foundation provided a donation of $50,000
The City of Fredericton's Pickleball Club will benefit from new construction to support inclusion and a deeper sense of community
News Release
August 1, 2023 · Fredericton, New Brunswick · Atlantic Canada Opportunities Agency (ACOA)
Canadian communities flourish when they have safe, welcoming public spaces where people can come together to connect, engage and participate in recreational programs and activities. Having access to vibrant, interactive spaces breathes new life into our communities, stimulates local economies, creates jobs, and improves the quality of life for Canadians.
Today, Jenica Atwin, Member of Parliament for Fredericton, announced an investment of $127,930 through the Canada Community Revitalization Fund (CCRF) for the Fredericton Pickleball Club. The announcement was made on behalf of the Honourable Gudie Hutchings, Minister of Rural Economic Development and Minister responsible for the Atlantic Canada Opportunities Agency (ACOA).
This investment will support the construction of six new accessible pickleball courts that will benefit a growing membership and attract a larger, diverse group of participants to the sport – contributing to a vibrant sense of community and greater social inclusion.
The Honourable Jill Green, Social Development Minister and Minister responsible for the New Brunswick Housing Corporation, announced support of $104,122 from the Province of New Brunswick through the Regional Development Corporation (RDC); and Her Worship, Kate Rogers, Mayor for the City of Fredericton, announced a donation of land for the courts located at the Willie O'Ree Sports Complex.
. . .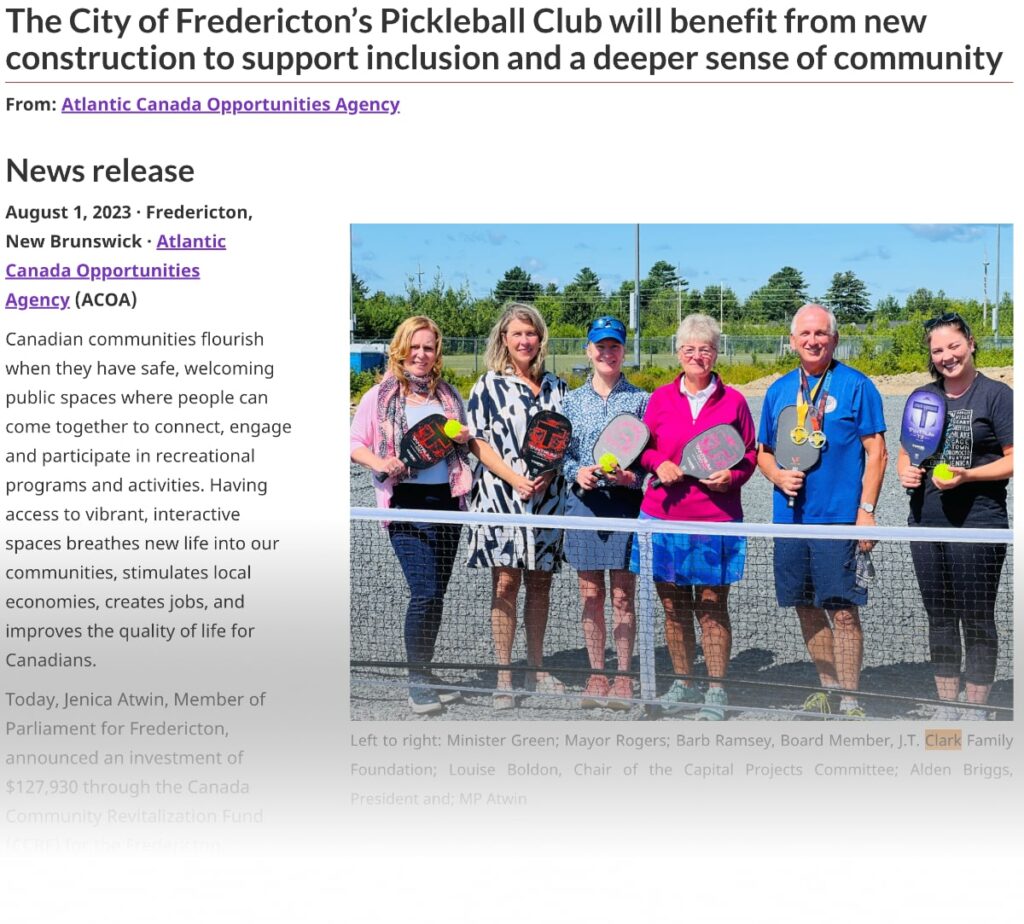 Read the Full article: Atlantic Canada Opportunities Agency